Meetings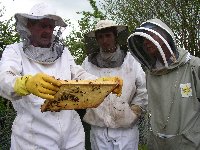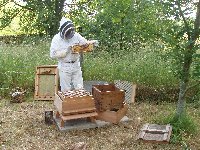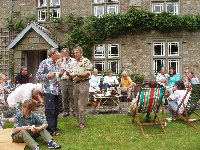 If you require any further details or have any ideas for future meetings, please contact our events officer.
Summer Programme 2015
From May until September we gather at different apiaries whatever the weather. Meetings have a topic related to beekeeping but most importantly there is always a leisurely Jacob's Join tea. We have protective beekeeping clothing available to lend; if possible contact one of us first so that we can make sure we have the right equipment available to fit you. Coming to an apiary is a good way to gain the opportunity of seeing inside a beehive.
Unless otherwise stated, all apiary visits start at 2:30pm.



May 17th 2015

We have been invited to Alan and Margaret Tett's at Field Maple, Burton Road, Holme, LA6 1QS. Tel: 01524 782871. Alan will demonstrate "Making up Nucs".

Jun 13th 2015

We have been invited to Phil and Rosie's at 15, Greengate Lane, Kendal, LA9 5LL.

Jul 12th 2015

We are invited to Ron and Judith Bayne's home at Helm End, Barrows Green, GR 532882, off the A65 South of Kendal. Follow the signs opposite the Punch Bowl to the rise of the hill and turn right, down the private road. Tel: 015395 61254.

Aug 15th 2015

We are invited to Fiona and Manuel Zobole's home at Inman House, Lythe, LA8 8DF. Tel. 07970 062122.

Sep 6th 2015

Today we are off to Brigsteer, to visit Julia and Martin and their bees. Please park at Helsington church, where it is a short walk across a field. Wellies are a good idea here, just in case the grass is wet!